Keller Williams ABODE Team And Community Outreach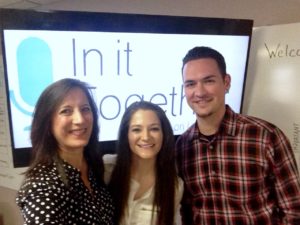 On today's Come Together community show, Stephen Jenkins Jr. and Nicole Garrity from Garrity & Jenkins, ABODE Team at Keller Williams Metropolitan Realty, joined Lori to talk about the expectations and emotions of buying and selling a home. They started off talking about breaking the stigma of real estate agents, and how Keller Williams Metropolitan has a passion for outreach. Lori shared about a recent "Red Day" they had to help families in need with yard clean up.
Next, Nicole and Stephen shared their backgrounds in real estate. They told us about the mentors who helped them learn the business, and how their partnership began. Then,  Zachary Saunders of Residential Mortgage Services in Portland, Maine, called in and told us why he liked working with the ABODE Team, and then shared about mortgage interest market trends. All agreed that building relationships was key to helping people with their real estate needs. Stephen reinforced the importance of having good communication between team members to best serve their clients.
Finally, we heard a surprising fact about Keller Williams 400 agents who work together to share information that helps them serve their clients more efficiently. Listen in and hear more about it.