Good Life with Bishop Levister and Pastor Steve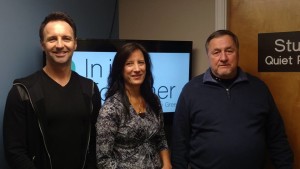 (Segment One) Lori introduced us to two of her personal mentors this morning for Good Life.  Her guests were Pastor Steve Jenkins and Bishop David Levister.  Bishop Levister told us that the cross shows us how much God loves and shared that He loves you so much that he would rather die than live without you.  He talked about the value in what God has gifted us with.
(Segment Two) "Everything in the Kingdom is received by faith and faith alone," Bishop Levister shared with us.  He spoke about what New Covenant righteousness is.  He talked about letting God's Word work in your life and told us that God finds great delight and joy in helping people.  Finally, we heard from Pastor Steve about the power of salvation.
(Segment Three) Bishop Levister told us that Jesus is the only person who is in your life who knows everything about you and he's still not mad at you.  He spoke about the true meaning of the Bible.  He talked to us about being Heirs of God and why that's good for believers.  He shared about God's pre-arranging and the positive results that come with it.  Tune in to hear all about it and click here for Bishop's website.