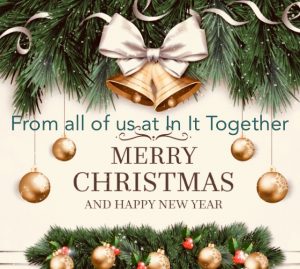 On today's special Christmas broadcast, the entire In It Together family joined Lori. Anchors, Marnie Wells of Musings with Marnie, Jen Lever of Recovery Now, Marc Major of It's A Wonderful life, Bob Boilard of Personal Safety and Ron Moore Jr. of Storm Chasing, joined Lori to celebrate Christmas.
Marnie started us off talking about choosing joy and peace for our day. She also encouraged us with the classic Christmas Carol story. Jen chimed in and Lori announced this being there 100th time on air together. They reminisced about how much they learned together to help families dealing with addiction, and Jen's desire to bring comfort in difficulty. They determined that the running theme of In It Together is about giving back.
Next, Lori shared how this was Bob's 78th time on air with her, as she highlighted his heart to keep people safe. Bob told us about his involvement in suicide prevention with New Hampshire Firearms Safety coalition, and why it's important in the Holiday season. Marc joined the conversation as the It's A Wonderful Life anchor. He shared his thoughts of the perfect gift God gave us all. Last but not least, Lori told us Ron has been on on air 96 times. Ron told us Christmas is year round, and added how he grew up in a home of big dreamers, and how it is good to be with like-minded people who want to change the world. Finally, Lori told us about her surprise gift for her family. Listen in and hear more about it.
https://soundcloud.com/lorilynngreene/christmas-2017-it-it-together-family
---