Thanksgiving with The Greene Family 2017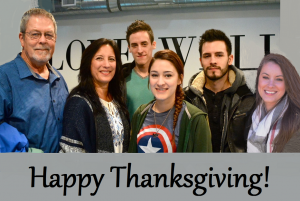 On today's show, Lori's family joined her for a special Thanksgiving Day broadcast. Lori  started off talking about  how Thanksgiving can be a reminder of how blessed we really are. Then the whole crew took turns sharing family memories about one another. First Dave (Dad). Lori mentioned the 35 years of Thanksgivings she's had with him. Then they shared about David (Alex), Kiana, Ben, Kailey, and last but not least, Lori (Mom).
Next, they talked about how they've made a wonderful life together, how it hasn't always been easy, but how rich they are in what matters. They also told us about the privilege it's been having people at their home throughout the years who needed a place to stay or just company. Lori encouraged those who have lost loved ones to reflect on the good things. She also warned us not to think of Thanksgiving as a day, but to treat people as if it were the last time we would have a chance to love them. Finally, Dave said his thanks for those in the armed services. Listen in and hear more about it.