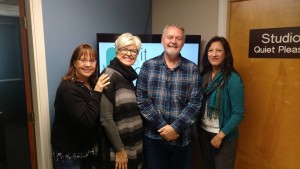 (Segment One) Lori was joined this morning by Anita Perry for the Never Alone segment.  They talked about grace energy.  Lori told us the differences between the life in you and the life around you.  They shared about the power of the Holy Spirit and our place in it.  "We have a ministry of reconciliation," Lori said.  Tune in to hear more.
(Segment Two) Anita introduced her guests Stephen and Barbara Arbo.  Barbara talked to us about how she came to meet God.  She told us about a deliverance from drugs and a former lifestyle.  Stephen shared that we fill our lives with everything else and we end up with nothing.
(Segment Three) In our final segment with Stephen and Barbra we heard how they came to New Hampshire.  They talked about establishing a place of prayer in the hearts of people.  They shared about the search for a physical location for a place for prayer.  For more information click here.
---