God Is For You With Thad Riley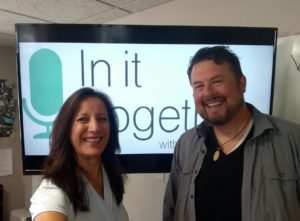 On today's In It Together, Author, Thad Riley joined Lori to talk about his book, God is For You. They started off talking about how he never thought about being a writer when he started posting on social media. He then told us about his first devotional book, 25 Days with Jesus: A Christmas Devotional, and how he's improved as a writer. He added how most writers want to write, but they don't want to do the work.
Next, they discussed Thad's high-school years, being overweight, and training to run a 1/2 marathon. Even more moving, was how his friend, The Alaskan, helped him finish the race, paralleling the idea to how Jesus helps us on our journey. He also told us about his struggles with disappointment, losing his reputation, friends, and ministry though a painful divorce.
Finally, Thad talked about how the book was deeply rooted in the life of Jesus. He called it hopeful and broken. Listen in and hear more about it.